EClub Events and Activities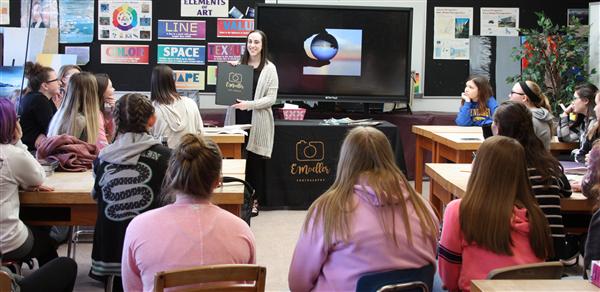 EClub and students from high school art classes learns about entrepreneurship and photography from recent graduate

Photographer and entrepreneur Erika Moeller (Class of 2016) spoke with students in EClub and the HS Art classes about starting up her photography business. Erika shared her portfolio of work, spoke about what inspired her and gave great advice to everyone on being an entrepreneur. Erika said "Being able to come back to Barker and have the opportunity to speak to the students was such a great experience! My hope was to inspire them to keep reaching towards their goals and growing as an artist, whether it be in photography or art in general." After the presentation Paige Sandolfini shared "I learned it takes a lot of commitment to start a business. Always put 100% into something you want to do." Morgan Phillips said "My favorite part was getting to look at all the beautiful pictures. I learned that it's rewarding to do what you love." Anyone interested in or needing a photographer for weddings, senior portraits or family portraits may contact Erika at erika.moeller4@yahoo.com or 716-957-0625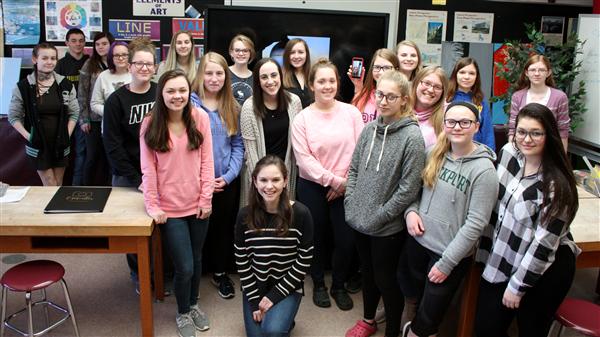 EClub members have volunteered a couple times already this year at PAWS Animal Shelter in Albion, NY and plan to return again. Students spent their time cleaning and working with the cats and dogs at the shelter. Community service teaches skills, thinking on your feet and working with others. "It teaches you things that you might have not known", says Kaitlyn Carmer. Another EClub member, Kathryn Donner, feels that community service is important because "it helps those in need." Kathryn had a great idea to make dog toys before EClub's first visit to PAWS. The dogs and puppies loved the toys so much that she taught everyone in EClub how to make them, this time for the cats too! "My favorite part of the trip was the cute kitties," said Larcey Dwyer. "Animal shelters need a lot of help, they have so much stuff to do!" exclaimed Kathryn after her first visit. There is a link on this page to PAWS Animals Shelter to learn more about how you may volunteer time or donate items to help the animals.
EClub spent a morning helping out at PAWS Animal Shelter... we did lots of cleaning and lots of cuddling cats and dogs!

"Community service has taught me all kinds of skills and increased my confidence. You go out there and think on your feet, work with others and create something from nothing. That's what life's all about."




Club Goes to an Escape Room

EClub went to Into the Enigma an Escape Room owned by entrepreneur Tim Elliott in Medina, NY. Students successfully worked as a team to problem solve clues to make their way out of the room in only an hour. There was a lot of creative thinking! This was a great experience enjoyed by everyone!
EClub learns about entrepreneurship from local businessman

Small business owner and entrepreneur Tim Elliott spoke with students in EClub about starting up and owning a business. Tim Elliott is the owner of Brushstrokes Studios and Into the Enigma in Medina, NY. Students listened intently to his advice and tips on being an entrepreneur and positive encouragement that they too could be successful business owners someday.
E Club Officers

Pres- Paige Sandolfini

VP – Kathryn Donner

Secretary – Keira Wass

Treasurer – Larcey Dwyer

Publicity – Lizzy Langendorfer, Samantha Mace

Webmaster – Kaitlyn Carmer
Links to local businesses and community service opportunities
PAWS Animal Shelter

People For Animal

Welfare Society, PAWS of Orleans County, NY

A non-profit, no kill animal shelter, established 1981

Into the Enigma

Into the Enigma is an Escape room in Medina, NY. Into the Enigma escape room provides a unique and interesting adventure for everyone where you will need to think your way through our puzzles, riddles, and games.
Last Modified on April 20, 2018