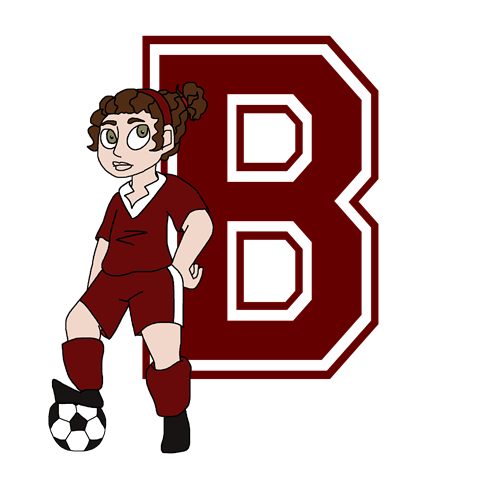 Leising & Luckman Lead Varsity Girls Soccer to Victory
BUFFALO -- The Varsity Girls Soccer team got their first win of the season last night beating CSAT, 2 to 1. Dakota Leising scores both goals and Syd Luckman had a great game in goal.
Sutch & Sutch Connect For Goals While Parfinski Scores Winner On Homecoming
BARKER -- The Girls Varsity Soccer team got its first win on Saturday by a score of 3-2 for their homecoming match vs. CSAT. Bailey Sutch netted the first goal on a penalty kick. Paige Sutch then scored her first varsity goal which she attacked out of the air on a corner kick from Bailey. With only a few minutes remaining in the game, Rachel Parfinski ripped a shot from the 18 over the head of the goalie to put Barker ahead by 1 and eventually win the game. It was an outstanding team effort to end the regular season. The Lady Raiders will travel Wednesday night to compete in a sectional match vs. Holland.
Morris Tallies 2 In Season Ending Win At CSAT
BUFFALO -- The Girls' Varsity Soccer team defeated CSAT on Friday, 2-1. Both goals were scored by Taylor Morris with an assist from Kayla Licht. It was a great way to end the season.
All League Recognition Announced For Girls Soccer Team
October 23, 2015
BARKER -- Congratulations to the following soccer players for receiving Niagara-Orleans League Honorable Mention recognition: Lindsey Williams, Sara Gendrue, and Mallory Gross. Williams did a great job in goal this season for the Lady Raiders with a total of 255 saves. Gendure was the team's top scorer with 5 goals. Gross was the second leading scorer for Barker with 4 goals.
The team also received the honor of being chosen to receive the N-O League Sportsmanship award. The Barker representative for this award is Lindsey Williams. Congratulations to both Lindsey and the entire team.
Double OT Not Kind To Lady Raiders
October 8, 2015
TONAWANDA -- The Barker Lady Raiders fought a hard battle against CSAT in double overtime, but came up short against the Eagles 3-2. Sara Gendrue scored both goals for the Lady Raiders. The second goal was assisted by Abby Bachman. It was a great job by all.
On Saturday the Lady Raiders travel to Medina for their next game.
Gendrue Nets Winner
October 5, 2015
BARKER -- The Varsity Soccer team defeated Lyndonville 1-0 on Monday. The loan goal was scored by Sara Gendrue with an assist from Mallory Gross. Everyone did a great job.
The team's next game is Tuesday at home against Akron.
Girls Soccer Shuts Out CSAT
September 14, 2015
BARKER -- The Varsity Soccer team defeated CSAT 3-0 on Monday. Goals were scored by Mallory Gross, Taylor Morris and Mireia Coll-Vinent. Abby Bachman assisted on Gross's goal while Sara Gendrue registered an assist on the Morris goal.
Lindsey Williams did an awesome job in the goal. Allie Buzzard and Heather Potter had a great game on defense. It was an outstanding job by the entire team.
The Lady Raiders will host their next game this Thursday against the Medina Mustangs.
Sonberg, Flegal And Morris Score In Victory
October 9, 2014
BARKER -- The Varsity Girls Soccer team defeated CSAT 3-1 on Thursday. Goals were scored by Alexis Sonberg, Kelsi Flegal, and Taylor Morris. Lyndsey Williams did a great job in goal with 11 saves.
The next game is Saturday at home against Medina at 10:00 AM.
Varsity Soccer Team Earns Tie With Medina
September 18, 2014
MEDINA -- The Varsity Soccer team tied Medina in overtime on Thursday night. Lindsey Williams had 26 saves in goal. Everyone did a great job for Barker.
Keys Named Coach Of The Year
BARKER -- Congratulations to Barker Girls Varsity Soccer Coach, Mrs. Keys for being named Coach of the Year by the Western Niagara Frontier Board of Officials for Women's Soccer. Coach Keys was recognized because she demonstrates good character, discipline, knowledge of the sport, and she is respected by her athletes.
Richbart Named Scholar-Athlete For Fall
BARKER -- Congratulations to Haley Richbart for being named an Honorable Mention All-Western New York Scholar-Athlete this past fall.
All League Accolades For Soccer Players
October 29, 2013
BARKER -- A special congratulations are in order to a few Barker Soccer players. Hayley Richbart, Kelsey Mattoon, and Kelsi Flegal all received Honorable Mention. Goalie, Lindsey Williams, was selected for Second Team due to her 304 saves this season.
Varsity Soccer Ends Season With Victory
October 17, 2013
TONAWANDA -- Thursday night the Varsity Soccer team beat CSAT 2-0. The goals were scored by Haley Richbart on an assist Jessie Wilson and Perrine Gigandet who was assisted by Abby Bachman. Lindsey Williams had 10 saves to give her 304 on the season.
Barker Plays Amazing Game At Newfane
October 5, 2012
NEWFANE -- The Varsity Soccer team played an amazing game on Friday at Newfane. The Panthers had sidelines loaded with cheering fans for their homecoming, but Barker held the Newfane team to just one goal. The defense dominated the game by keeping one of the top scorers in the league off the scoreboard.

The team is home on Monday against Akron at 4:30.
Varsity Soccer Avenges Early Season Loss To Roy-Hart
October 3, 2012
BARKER -- The Varsity Girls Soccer team avenged an early season loss to Roy-Hart with a 1-0 victory over the Rams on Tuesday afternoon. Lindsey Williams had her second shutout in goal with 22 saves. Alexis Sonberg scored the only goal of the game in the second half with a shot that sailed over the goalie's head. The Barker defense shut down Roy-Hart's top scorers, while the offense pressured the Rams' goalie with shots on goal. The girls played an amazing and all of their hard work paid off in a well deserved win.
Varsity Soccer Plays Tough At Roy-Hart
September 11, 2012
GASPORT -- Tuesday the Varsity Soccer team played a tough game against the Roy-Hart Rams. The Lady Raiders kept the score 1-0 in the first half with the strong defense of Kelsi flegal, Kelsey Matoon, Amanda Austin, and Leah Perkins. Alexis Morris made some good runs on offense along with the newest member, Christina Rose.

Barker will now prepare for a home game this Friday against Newfane.
Williams Makes 21 Saves At Medina
September 7, 2012
MEDINA -- Friday the Varsity Soccer team played a good game against the Medina Mustangs. Lindsey Williams had 21 saves in goal. Defense and offense played hard all game. Christina Rose joined the varsity for the game and played hard and very well. Alexis Sonberg played great with one goal against Medina.
Varsity Soccer Team Opens Against Wilson
September 4, 2012
WILSON -- The Varsity Lady Raiders Soccer team started their season against Wilson Lakemen on Tuesday. The defense and rookie goalie Lindsey Williams showed Wilson what Barker had in store. The game was a kickoff to the new season under the new coach Jill Keys. As a team Barker came up short, but never showed signs of defeat.

Next up is Medina on Friday.