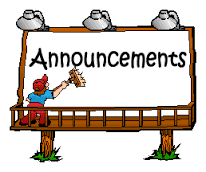 Latest Updates
FIELD TRIPS: The Hidden Valley Animal Adventure field trip has been rescheduled for Tuesday, August 1st. Please click on the rescheduled field trip flier for further information.
2017 INFORMATION: The 2017 summer recreation & band lesson information sheets and registration form is available under the File Library below. Forms are also available in the office, the gyms and pool. Forms can be dropped off in the Pratt Elementary office through August 3rd if your child plans to attend summer recreation. All checks/money orders must be made payable to: Barker Central School.
Students going into grades K-12 in the fall of 2017 are eligible to attend summer recreation, but you must be registered to do so, and you must have a current immunization record on file with the Health Office. Please use 1 registration form for each student. SUMMER RECREATION, is in session from 9:00 AM—12:00 PM each weekday from Thursday, July 6th through Thursday, August 3rd.
Please check back often for the latest summer updates.
BAND LESSONS: Registration forms for students who will take summer band lessons were due Tuesday, June 20th. If you still would like to take band lessons, please contact Mrs. Cheryl Johnson as soon as possible. BAND LESSONS are for 30 minutes, once a week, and are scheduled between 9:00 AM-2:00 PM. Band lessons began Monday, July 10th and run through Thursday, August 10th. Band lessons are not given on Fridays. If registering for band lessons, please be sure to complete the middle box on the registration form.
POOL: Lesson schedules were posted in the Pratt Elementary gym, arts & crafts, and at the pool on on Friday, July 7th at 12:00 noon. Lessons began on Monday, July 10th.
SPECIAL EVENTS: Check back soon for additional activities, events, and dates. You can also view the Summer Recreation Calendar below for a full list of daily activities and schedules. Don't forget about the Bike Safety Rodeo on Wednesday, August 2nd. An information poster and permission slips are available by clicking on the links here or under the File Library section of this page.
CONTACT INFORMATION: If any medication is needed for a student during the summer a doctor's note MUST be on file in the BCS Health Office. If you have any medical questions or concerns, please contact the School Nurse:
Sarah McKee
716-795-9322
For additional information or questions please contact the appropriate person below. Please click on the name to send an email or you can call the phone number listed:
Band Lessons:
Cheryl Johnson
795-3201 x5189

Summer Recreation:
Jeff Costello
795-3201 x5185